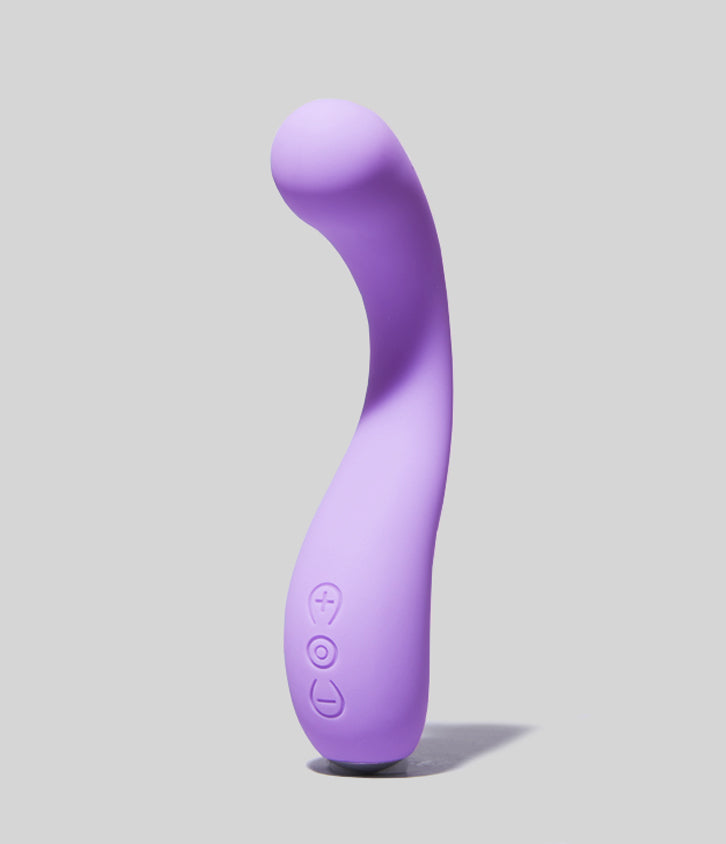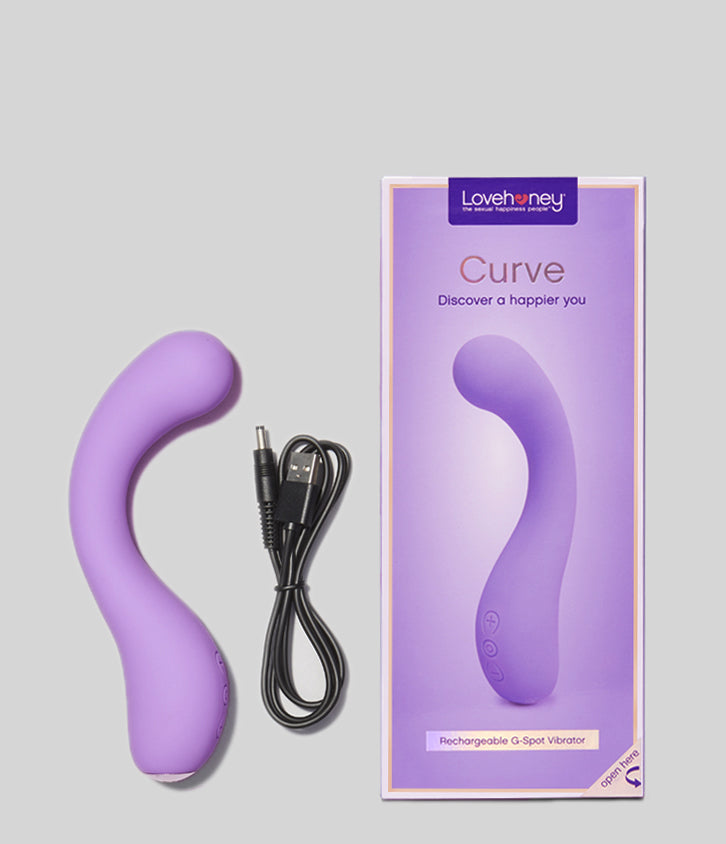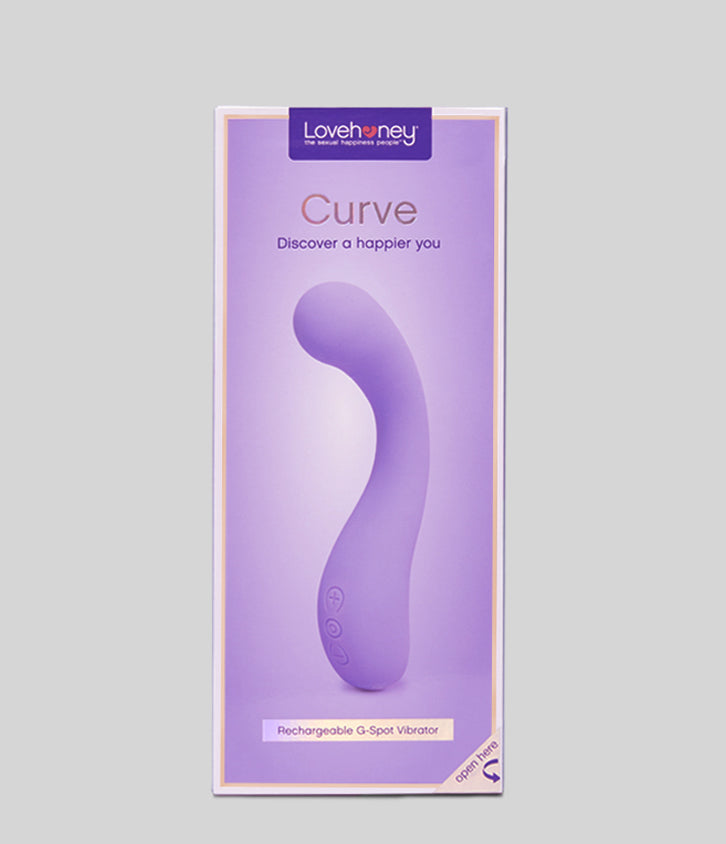 Curve by Lovehoney
Yeah, That's the Spot
With this ingeniously designed vibrator made to reach your G-spot, it's easy to hit the bullseye every time.
Curved tip nestles into your G-spot for intense stimulation
12 vibration speeds, 8 patterns, 80-minute run time
Soft silicone with a silky finish
No batteries needed; recharge using its included USB cable
Waterproof, easy to clean, latex- and phthalate-free
Why we really love it? Orgasms help menopause symptoms by increasing blood flow to your V
LIMITED EDITION Rechargeable Curved G-Spot Vibrator
TRY FOR 30 DAYS RISK FREE WITH OUR MONEY BACK GUARANTEE
Get in touch with your deepest pleasure zone—and help with the lower libido of changing hormones—with this luxe rechargeable curved G-spot vibrator by our friends at Lovehoney. Featuring a curved tip that works with the contours of your body and 12 vibration speeds and 8 patterns, the soft silicone design makes it simple to target your most sensitive areas (finally!). For even more intense stimulation, use it with a water-based personal vaginal moisturizer like our Daily V Soothe or move playtime to the shower…it's 100% waterproof.
Why We Recommend It:
An orgasm a day keeps the atrophy away! Because they increase blood flow to your vagina, a big O can help alleviate symptoms of menopause. So go for it—it's good for your health to reach for a vibrator, and this one by Lovehoney is one of the most luxe around.
Shop all Feminine Care & Sexual Health
To charge Joy, plug the USB cable into a USB charging point and attach the electrical connector into the base of the toy.
To maximize Curve, apply plenty of a water-based lubricant or a vaginal moisturizer like Daily V Soothe by Womaness to the silicone G-Spot vibrator before using.
Press and hold the power button for three seconds to turn it on or off, and press repeatedly to explore the vibration patterns.
Clean after use and leave to air dry until next time.
Features
UNIQUE DESIGN: The bulbous, curved tip nestles into your G-spot for intense stimulation
FUN: 12 vibration speeds and 8 different patterns to discover
NO BATTERIES NEEDED: Recharge using the included USB cable
LONG-LASTING: Run time is 80 minutes
NICE TOUCH: Soft silicone with a silky finish
SIZE MATTERS: Circumference: 4.5 inches; Insertable Length: 5.5 inches; Length: 7.5 inches
SMART: Waterproof, easy to clean, latex- and phthalate-free
Made from silicone and chrome-plated ABS plastic. Does not contain latex or phthalates. Water-based lubricant is recommended. 100% waterproof. Sold as an adult novelty. Discontinue use if irritation or discomfort occurs. To avoid injury or aggravation of pre-existing conditions, do not use on swollen or inflamed areas or skin lacerations. No medical claims are warranted or implied by the use of this product. The shape and appearance of the product inside the package are a trademark and trade dress of Lovehoney Group Ltd. Copyright © 2020.
Lovehoney® is a registered trademark of Lovehoney Group Ltd. Made in China for Wellfound, Inc
Can I use Curve internally?
Yes. This luxe silicone G-spot vibrator is created for internal stimulation. The G spot, or Gräfenberg spot, is located a few inches inside the vagina along the front wall. It's about halfway between the vaginal opening and the cervix.
The shape of the vibrator has been designed with your body in mind. The bulbous, curved tip will nestle into your G-spot for intense targeted stimulation.
Note, though, that you may use Curve for clitoral stimulation as well.
Can a vibrator really help me with my lower libido in menopause?
"Vibrators can increase blood flow to the genitals," which can help women in menopause with sexual issues such as arousal or orgasm problems, states NAMS, the North American Menopause Society. And Dr. Emily Morse, Doctor of Human Sexuality and member of our Expert Panel, puts it this way: "Vibrators are probably one of the single most effective inventions that have actually helped women with their sex drive." Learn more here.
Curve by Lovehoney
$69.99