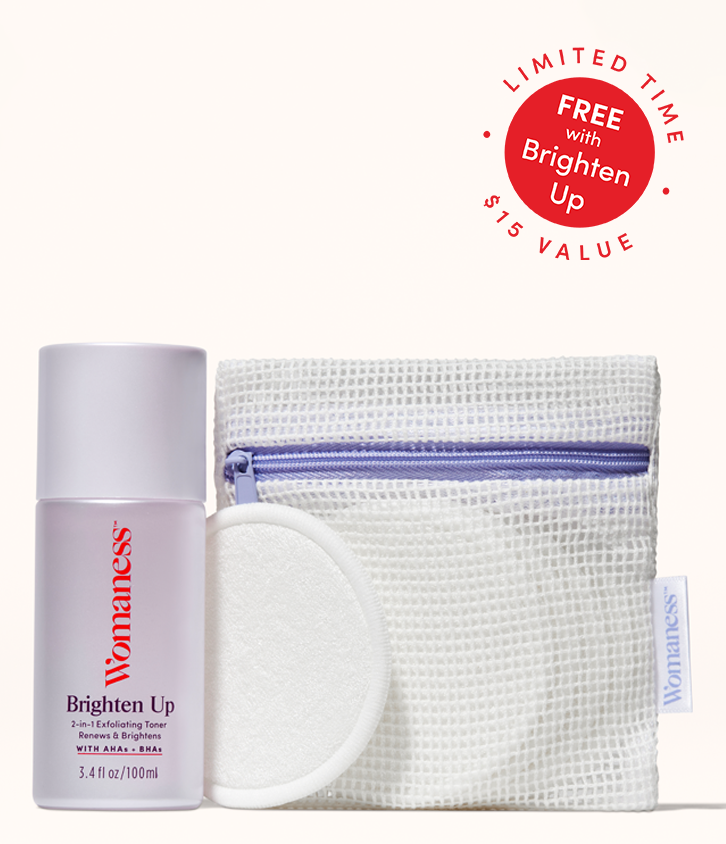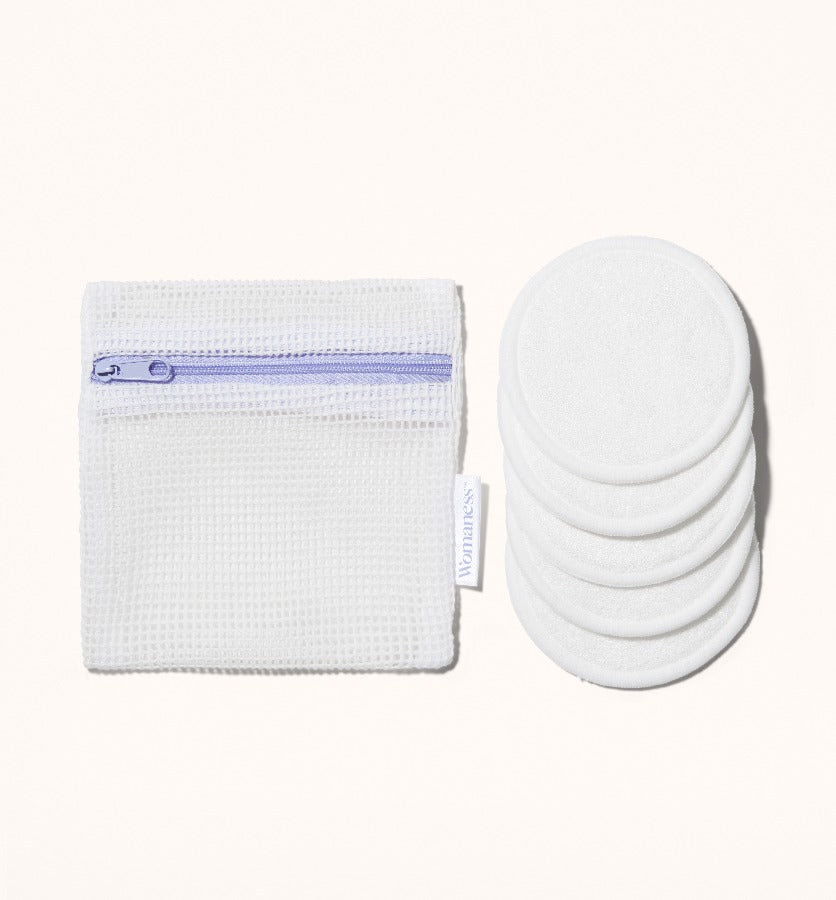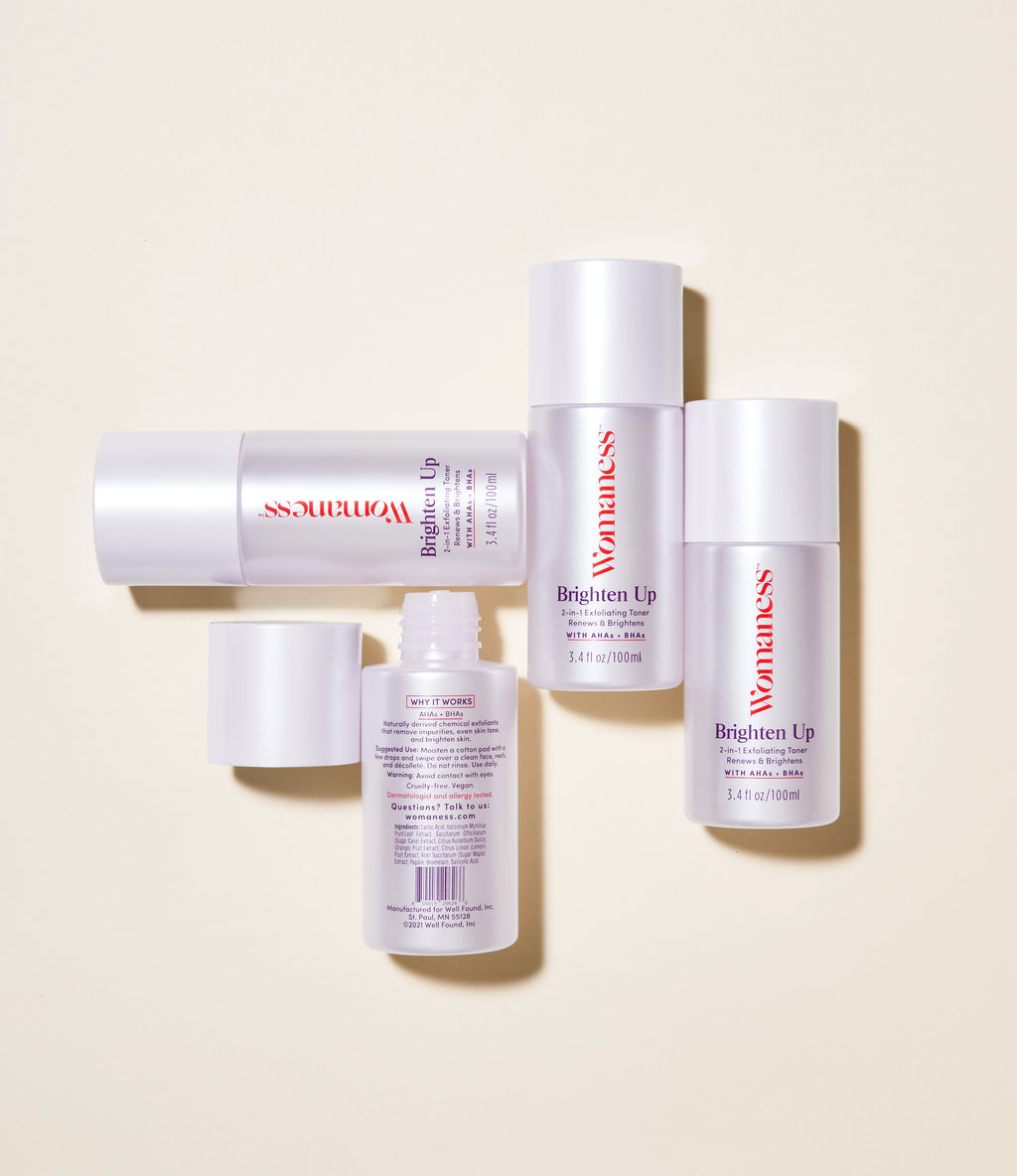 Brighten Up with Free Gift Cotton Rounds
Reveal the Brightness Beneath
There's never a dull moment in menopause—but it doesn't mean your skin has to follow suit. This gentle yet effective exfoliating toner sloughs away dead skin cells, refines pore, smooths skin, and helps reduce the look of dark spots thanks to a triple acid complex of three types of chemical exfoliants.
Non-abrasive exfoliating and toning liquid
Helps remove impurities, even skin tone, make skin more radiant, exfoliate dead skin cells, and reduce dark spots
Helps refine and reduce pore size
Formulated with proven AHAs (Lactic acid), BHAs (Salicylic acid), and PHAs (Bromelain)
Use on face, neck, and décolleté after cleansing to help prime skin for the rest of your skincare routine
Gentle enough to use daily; if used in the AM, follow with SPF
2-in-1 Exfoliating Toner with 5 reusable double-sided cotton rounds in a cotton mesh pouch
TRY FOR 30 DAYS RISK FREE WITH OUR MONEY BACK GUARANTEE
Forget abrasive scrubs or harsh treatments that leave your skin red and irritated. Exfoliation shouldn't hurt! With Brighten Up, you can reveal a brighter, more radiant complexion without irritation. But trust us, just because you won't be scrubbing your face raw doesn't mean you aren't exfoliating your skin—in fact, the chemical exfoliants in Brighten Up are safer and more effective because you won't be breaking your skin barrier (a smart move for sensitive menopausal skin).
Its optimized blend of AHAs, BHAs, and PHAs combines all you need to help support cell turnover and keep skin feeling soft—plus it's gentle enough to use daily.
Absolutely no estrogen, phytoestrogen, or added hormones. Free from animal-derived ingredients, parabens, phthalates, sulfates, artificial colors, formaldehyde, and mineral oils.
After cleansing and patting skin dry, moisten a cotton pad with a few drops and swipe over a clean face, neck, and décolleté. Do not rinse. Follow up with the rest of your skincare routine.
New to exfoliants? Begin by using Brighten Up 2 – 3 times per week, gradually working up to everyday use.
 Best for nighttime use. Alternate using Brighten Up and retinol products like Plump It Up and vitamin C products like Fountain of Glow on different days. As always, please use SPF during the day.
Recommended daily routine:
MORNING
Cleanse
Brighten Up
Moisturize
SPF
NIGHT
Cleanse
Brighten Up
Eye Opener
Overnight Magic
Warning: Avoid contact with eyes.

LACTIC ACID (AHA)
An alpha hydroxy acid (AHA) that exfoliates the surface of the skin while encouraging cellular turnover and brightening skin tone. It also helps keep skin hydrated due to its ability to bind water within skin.
SALICYLIC ACID (BHA)
Also called beta hydroxy acid or BHA, this oil soluble acid mimics the natural exfoliation process of younger skin by unclogging and clearing pores, exfoliating the buildup of dull, dead skin on the skin's surface. It also helps clear and control excess oil production without dryness or irritation and reduces the appearance of pores.
BROMELAIN (PHA)
The gentlest acid in the group, this PHA is an enzyme found in the pineapple plant that soothes skin while buffing away dead skin cells to leave your skin smoother and brighter.
BILBERRY FRUIT/LEAF EXTRACT
Also known as European Wild Blueberries, Bilberries (Vaccinium Myrtillus) strengthen the skin against signs of redness, boost skin's environmental defenses against UVA light, and are an incredible source of antioxidants.
FRUIT ACIDS
Including Saccharum Officinarum (Sugar Cane) Extract, Citrus Limon (Lemon) Fruit Extract, Acer Saccharum (Sugar Maple) Extract, and Citrus Aurantium Dulcis (Orange) Fruit Extract, these extracts provide a gentler form of cell turnover while still providing exfoliation.
ALL INGREDIENTS
Water (aqua), Butylene Glycol, Glycolic Acid, Glycerin, Pentylene Glycol, Polysorbate 20, Hamamelis Virginiana (Witch Hazel) Water, Aloe Barbadensis Leaf Juice, Coconut Oil Glycereth-8 Esters, Sodium Hydroxide, Phenoxyethanol, Caprylyl Glycol, Hydrolyzed Corn Starch, Beta Vulgaris (Beet) Root Extract, Pyrus Malus (Apple) Fruit Extract, Gaultheria Procumbens (Wintergreen) Leaf Extract, Potassium Sorbate, Sodium Benzoate, Citrus Aurantium Dulcis (Orange) Fruit Water, Salicylic Acid, Citrus Limon (Lemon) Fruit Water, Hydroxyethylcellulose, Tetrasodium Glutamate Diacetate, Salix Alba (Willow) Bark Extract, Lactic Acid, 1,2-Hexanediol, Vaccinium Myrtillus Fruit Extract, Sodium hyaluronate, Saccharum Officinarum (Sugar Cane) Extract, Hippophae Rhamnoides Oil, Glucose, Bromelain, Saccharide Isomerate, Citrus Aurantium Dulcis (Orange) Fruit Extract, Citrus Limon (Lemon) Fruit Extract, Acer Saccharum (Sugar Maple) Extract, Papain.
Anything I should know before starting Brighten Up?
If you're new to exfoliating, we recommend starting gradually and in your nighttime routine. Begin by using our exfoliating toner 2 – 3 times per week, slowly working up to everyday use.
If you're using our Plump It Up retinol or Fountain of Glow vitamin C serum, alternate using Brighten Up on different days. Please also use SPF during the day.
How often should I use Brighten Up?
The frequency depends on your personal skin concerns, so please test it to see what works best for you. Some people prefer twice a day, while others do well once a day or every other day.
What size are the rounds and the pouch?
Each cotton round has a 3-inch (8cm) diameter. The mesh bag is 4.7" x 4.7" (12cm x 12cm).
How do you wash the rounds?
We recommend laundering your reusable cotton rounds after each use. To do so, place the rounds in their included mesh pouch and zip it closed. Toss in the wash on a gentle cycle with similar colors. You can tumble dry low, but we prefer to lay them flat to air-dry (they'll stick around longer that way).

Brighten Up with Free Gift Cotton Rounds
$24.99