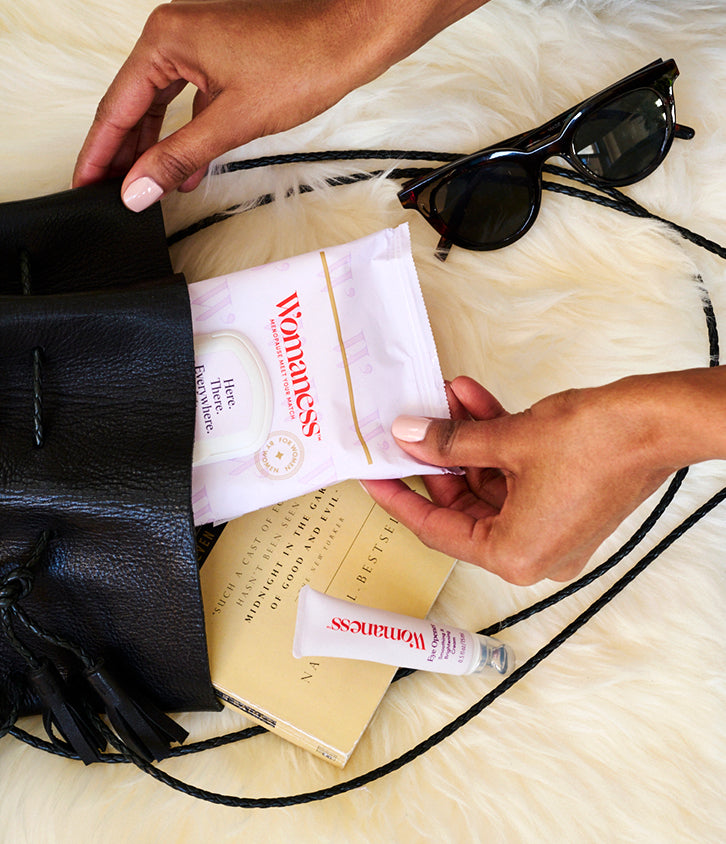 Here. There. Everywhere.
Get Fresh, Right Now
Refresh, hydrate, and soothe any part of your body, anytime you need it.
Fresh & Clean All-Over Body Wipes
TRY FOR 30 DAYS RISK FREE WITH OUR MONEY BACK GUARANTEE
Combat the changes this time of life brings—like hot flashes, odor, and dry skin everywhere—with our soft, biodegradable body wipes. Thanks to a high-level blend of naturally beneficial ingredients like rosewater, cranberry fruit, and aloe leaf extracts, you can gently and easily soothe any place that needs cleansing, gets too hot, or just needs refreshing (from head to toe, and nether regions, too).
Fragrance- and alcohol-free.
Absolutely no estrogen, phytoestrogen, or added hormones. Free from animal-derived ingredients, parabens, phthalates, sulfates, artificial colors, formaldehyde, and mineral oils.
Use anywhere on the body—including external vaginal area and underarms—that needs quick cooling or cleansing.
Completely biodegradable and compostable (but please do not flush).
Our Tip: Keep them on hand in your gym bag, at your desk, or in your car. Because cooling, refreshing, or soothing emergencies can happen anytime, anywhere.
CRANBERRY FRUIT EXTRACT
Derived from the seed of the North American cranberry and noted for its protective antioxidant ability, this all-natural extract helps soothe your skin.
ROSEWATER
A mild astringent that refreshes, regenerates, and revitalizes your skin, antioxidant rosewater can soothe redness, improve the skin's barrier, and have hydrating, softening, and healing effects.
ALOE LEAF EXTRACT
From the Aloe Vera plant, celebrated for centuries for moisturizing, emollient, properties for skin.
ALL INGREDIENTS
Aqua (Water, Eau), Saccharomyces Ferment Filtrate, Sodium Benzoate, Potassium Sorbate, Glycerin, Citric Acid, Aloe Barbadensis Leaf Juice, Rosa Damascena Flower Water, Chamomilla Recutita (Matricaria) Flower Extract, Vaccinium Macrocarpon (Cranberry) Fruit Extract.
Are your body wipes biodegradable?
Yes. Our wipes are completely biodegradable and compostable (but please do not flush them).
Are these really safe everywhere?
Yes. You can use our wipes anywhere on your body, including the external vaginal area and underarms.
Here. There. Everywhere.
$9.99